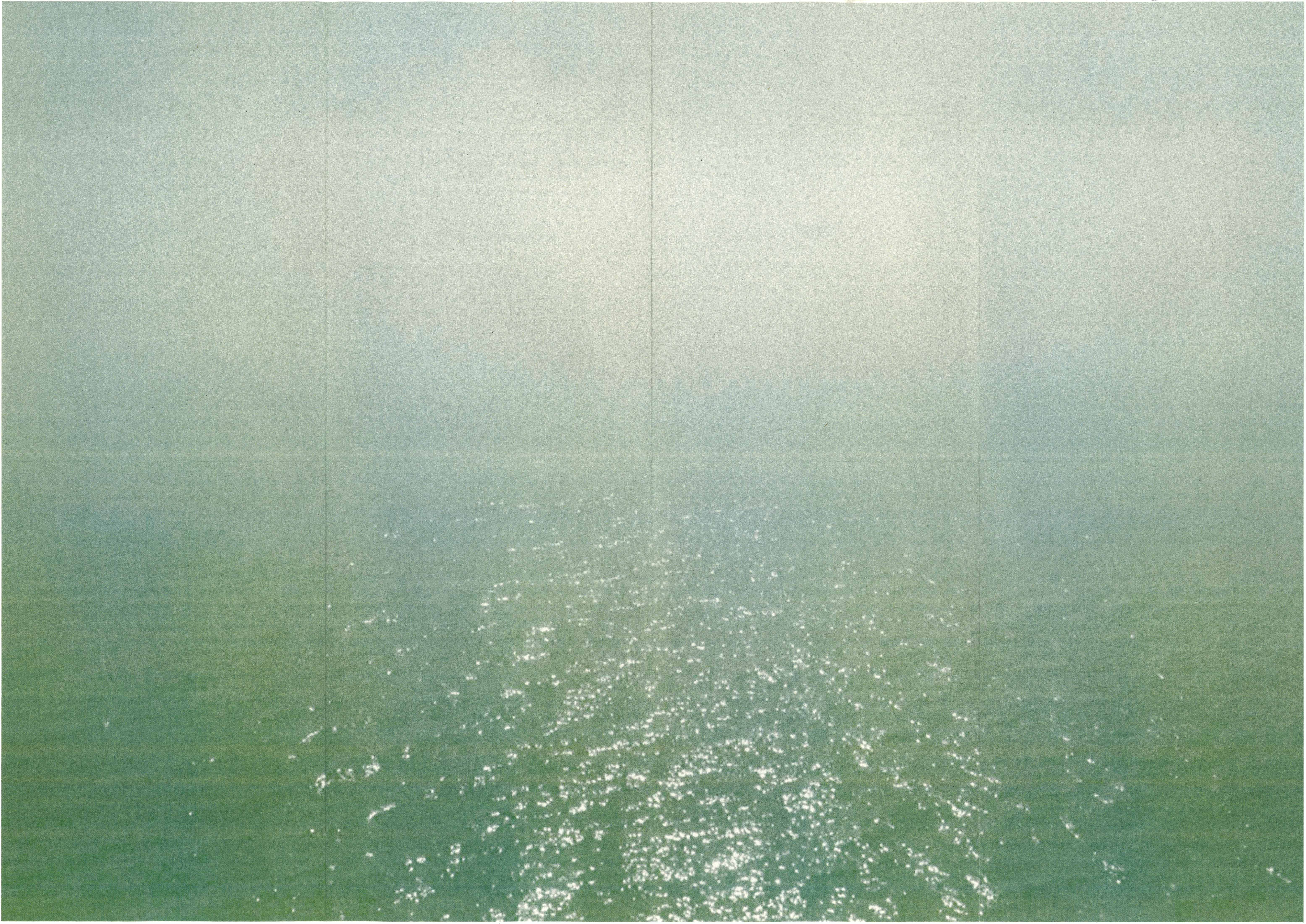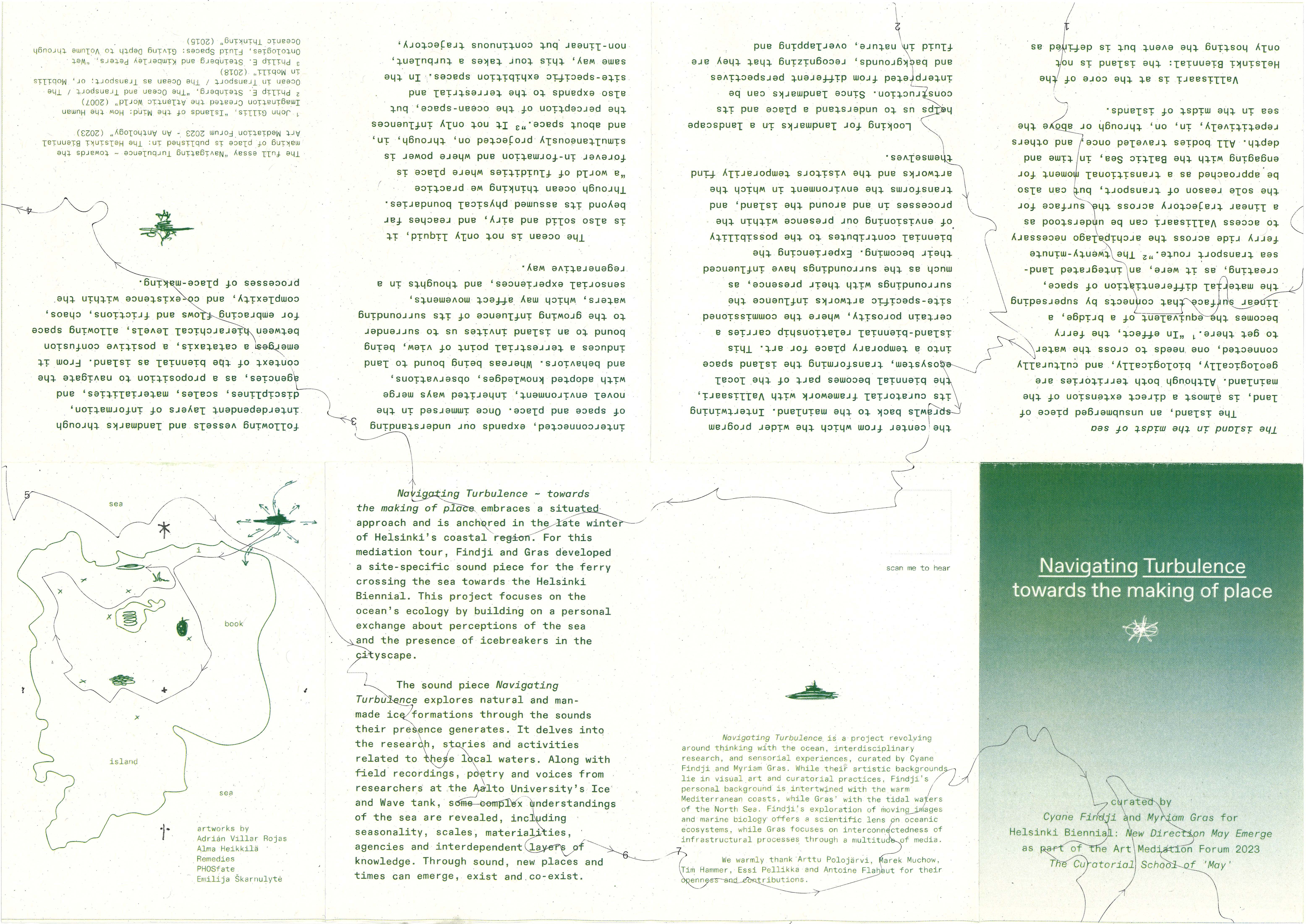 Images above: unfolded roadmap
Documentation of crossing the Baltic Sea by ferry towards the island of Vallisaari, home to the Helsinki Biennial, while listening to the site-specific soun piece Navigating Turbulence. Pictures by Cyane Findji
Navigating Turbulence ~ Towards the Making of Place, 2023

Helsinki Biennial Art Mediation Forum: Curated Tours incl. roadmap and soundpiece
12.06-17.09.23 - Vallisaari Island, Helsinki (FI)
Curated and produced by
Cyane Findji
and Myriam Gras.
Sound Editor: Antoine Flahaut. Voice: Essi Pellikka. Contributors: Arttu Polojärvi, Marek Muchow and Tim Hammer.


Listen to the sound piece
here.
For this mediation event, Cyane Findji and Myriam Gras developed a site-specific sound piece for the ferry crossing the sea towards the Helsinki Biennial.
Navigating Turbulence ~ Towards the Making of Place
embraces a situated approach and is anchored in the late winter of Helsinki's coastal region. This project focuses on the ocean's ecology by building on a personal exchange about perceptions of the sea and the presence of icebreakers in the cityscape.
The sound piece
Navigating Turbulence
explores natural and man-made ice formations through the sounds their presence generates. It delves into the research, stories and activities related to these local waters. Along with field recordings, poetry and voices from researchers at the Aalto University's Ice and Wave tank, some complex understandings of the sea are revealed, including seasonality, scales, materialities, agencies and interdependent layers of knowledge. Through sound, new places and times can emerge, exist and co-exist.
We warmly thank Arttu Polojärvi, Marek Muchow, Tim Hammer, Essi Pellikka and Antoine Flahaut for their openness and contributions.

About the Helsinki Biennial 2023

"As contamination changes world-making projects, mutual worlds - and new directions - may emerge."
Anna Lowenhaupt Tsing


Helsinki Biennial 2023 - New Directions May Emerge adopts its title from a quote by anthropologist Anna Lowenhaupt Tsing, who proposes learning from (the art of) "noticing". With close attention to other people, animals, plants, the environment, data, and other entities around us, the biennial explores how we might find new ways of living in, and understanding, the world. The biennial unfolds through multimodal acts of noticing, sensing and sense-making. Moving from humans to non-humans and between varying scales – a spectrum spanning data as the smallest scale, through to islands and speculative new worlds denoting the largest – the biennial invites audiences to consider how recognising small or otherwise invisible details might prompt possibilities to act, to imagine differently, and reconcile the impact of human intervention, environmental and technological damage.

New Directions May Emerge introduces three main conceptual threads — contamination, regeneration, and agency — not as themes but intersectional vectors through which practices and conversations convene without the need to settle on a precise direction or position. The second edition of Helsinki Biennial is curated by Joasia Krysa, with other intelligences — Museum of Impossible Forms, TBA21–Academy, Critical Environmental Data, ViCCA@ Aalto Arts, and an AI entity.

Bringing together established and emerging artists and collectives from Finland and across the world Helsinki Biennial 2023 comprises exhibitions, public programme, film screenings, and publications. It takes place on Vallisaari Island, HAM Helsinki Art Museum and other venues and public places in the city, and online.

The Helsinki Biennial 2023 participating artists are: Matti Aikio, Ahmed Al-Nawas & Minna Henriksson, Dineo Seshee Bopape, Danielle Brathwaite-Shirley, Golden Snail Opera, Asunción Molinos Gordo, Alma Heikkil., INTERPRT, Keiken, Sonya Lindfors, Tuula N.rhinen, Lotta Petronella with Sami Tallberg & Lau Nau, PHOSfate (Mohamed Sleiman Labat & Pekka Niskanen), Diana Policarpo, Sepideh Rahaa, Bita Razavi, Red Forest, Remedies (Sasha Huber & Petri Saarikko), Tabita Rezaire, Yehwan Song, Jenna Sutela, Emilija Škarnulytė, Suzanne Treister, Adri.n Villar Rojas, and Zheng Mahler.


Helsinki Biennial is produced by HAM Helsinki Art Museum.